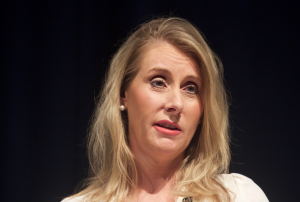 Debbie Crosbie, CEO TSB
TSB plans to close 82 branches – losing nearly 400 jobs – over the next year.
The bank is looking to slash costs and recover from a computer glitch that seriously dented its reputation.
TSB aims to save £100 million by 2022.
And, it announced a spend of £120 million investments and its digital services.
Debbie Crosbie, TSB CEO, said:
"This is a difficult decision in the face of a challenging external environment.
"With a trusted brand, modern platform, and national presence, TSB is well placed to deliver – but we need to make changes to enable us to compete."
Ms Crosbie was brought in last year after TSB's computer system broke down.
Thousands of customers were locked out of their accounts for weeks after the bank tried to switch its computer platform over a weekend.
The cost of compensation and bringing the bank back online cost £366 million.
A TSB report found that executives had lacked common sense and shifted customers to a new but un-tested IT platform.