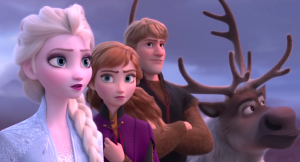 Frozen 2 has broken box office records after taking the highest earnings ever for an animated film
In just three days the Disney film made £272 million after being released in 37 countries.
The second Frozen film, featuring sisters Elsa and Anna, beat the record only set in June by Toy Story 4.
Toy Story 4, made by Disney off-shoot Pixar, took £187 million.
The first Frozen film went on to gross nearly £1 billion – the biggest animated film of all time.
Cathleen Taff, Disney's president of theatrical distribution, said:
"We are definitely thrilled
"It is not easy to follow up the original Frozen.
"We are cautiously optimistic the film will continue to have legs.
"I think we are going to have a good run."
In the UK, Frozen 2 took £15 million, a record for an animated film.