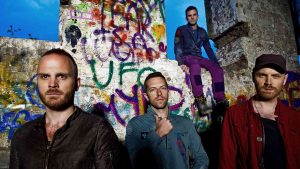 Coldplay will not tour to promote the band's new album, says frontman Chris Martin.
The decision has been made after the band's concerns about the environmental impact of concerts.
The singer said: "We're not touring this album.
"We're taking time over the next year or two, to work out how our tour can not only be sustainable but how can it be actively beneficial."
"All of us have to work out the best way of doing our job."
He added that the band wanted their future tours to "have a positive impact".
Coldplay's new album is Everyday Life.
Instead of spending months on the road the group will perform two concerts in Jordan.
These will be broadcast for free to a global YouTube audience.
Coldplay's last world tour took in 122 shows across five continents over two years.
Martin told the BBC: "Our next tour will be the best possible version of a tour like that environmentally.
"We would be disappointed if it's not carbon-neutral.
"The hardest thing is the flying side of things.
"But, for example, our dream is to have a show with no single use plastic, to have it largely solar powered.
"We've done a lot of big tours at this point. How do we turn it around so it's not so much taking as giving?"