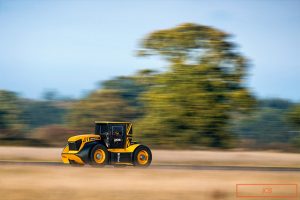 Dare devil driver Guy Martin has just set a new world record for driving a tractor.
He raced into the record books after clocking 135 mph in a specially tuned JCB.
The Fastrac Two was designed and built by engineers at the JCB HQ in Staffordshire.
The record has been ratified by Guinness World Records.
Guy Martin, 38, from Grimsby, Lincolnshire, said:
"This has been a massive undertaking, and I was a very small cog in the machine.
"It was a proper privilege to be involved, so thank you very much to JCB and its engineering team, who got this tractor absolutely spot-on.
"Just look at it, they get stuff done, it's brilliant, and it is still a working tractor, so could have gone straight into the nearest field to put in a shift."
JCB boss Lord Bamford said:
"When we reached 103.6mph with the Fastrac in the summer, I was convinced we could go even faster, and the JCB team has risen to the challenge by setting this new record.
"It's an amazing achievement delivered by a young and enthusiastic engineering team.
"Everyone involved should be very proud of the part they have played in showing off British engineering at its very best."