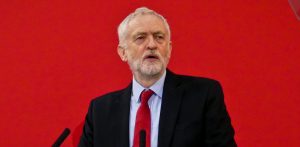 A Jeremy Corbyn led Labour government would be worse for Britain than a NO Deal EU exit, warn business leaders.
The party's plans to re-nationalise the UK's utilities' companies, transport networks, and take shares to give to workers, has sent a shiver throughout industry.
The fears were expressed as Mr Corbyn spoke at the Confederation of British Industry's annual conference.
Despite laying out a future for industry many found his policies too radical.
CBI Director General Carolyn Fairbairn said:
"The plans are sending a chill through boardrooms as businesses wondered 'who might be next?'"
Chris Buxton, chief executive of engineering trade body the British Fluid Power Association, said:
"I would rather crash out of Europe with No Deal than elect a Corbyn government.
"I remember being a child in the 70s, being gathered around a candle waiting for the power to come back on, and we absolutely don't want to return to that.
"But that's what we'll get if we stick with Labour's nationalisation plans."
Klaus Henke, managing director of technology company Billmonitor, said:
"Labour should be able to wipe the floor with the Tories after all of this Brexit delay.
"But Labour's policies are so unpalatable, with the high spending, nationalisation and lack of clarity over Brexit, it makes them unelectable."
And, Mark Spragg, managing director of business consultancy Where Now Consulting, said:
"Labour's policies are from the 1970s.
"We're in a changed world.
The future has to be with the next generation."