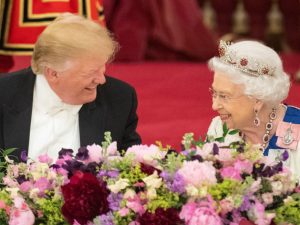 Donald Trump is to meet the Queen less than two weeks before the General Election.
The President and his wife Melania are guests at a reception in Buckingham Palace hosted by the Queen.
Mr Trump is in the UK for a NATO summit.
The two-day visit in early December will be controversial.
Mr Trump has already interfered in the election by endorsing Conservative Boris Johnson.
He also roundly dismissed Labour leader Jeremy Corbyn as "bad for the country".
The President is also friends with Brexit party leader Nigel Farage.
Indeed, he has urged Johnson and Farage to work together to become an "unstoppable team".
He even phoned into Mr Farage's LBC radio programme to declare:
"I have great relationships with many of the leaders, including Boris who's a fantastic man – I think he's the exact right guy for the times.
"I know that you and him will end up doing something that could be terrific – if you and he get together it's [an] unstoppable force."
However, he warned:
"Corbyn would be so bad for your country, he'd be so bad, he'd take you in such a bad way.
"He'd take you into such bad places. But your country has tremendous potential, it's a great country."
A White House statement said: "Seventy years after its founding, NATO remains the most successful alliance in history, guaranteeing the security, prosperity, and freedom of its members.
"President Trump looks forward to meeting with the other NATO heads of state and government to review the alliance's unprecedented progress on burden-sharing, including adding more than $100 billion in new defence spending since 2016.
"The president will also emphasise the need for the NATO alliance to ensure its readiness for the threats of tomorrow, including those emanating from cyberspace, those affecting our critical infrastructure and telecommunications networks, and those posed by terrorism."