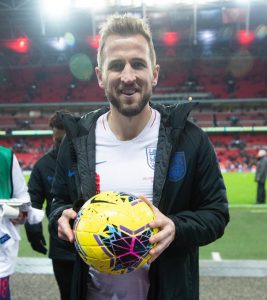 Twitter: Harry Kane with match ball
England captain Harry Kane scored a first half hat trick in an emphatic win over Montenegro.
The final 7-0 victory secures England's place in the Euro 2020 finals.
Kane's goal tally now stands at 31.
His three goals against the lacklustre visitors to Wembley saw him overhaul Frank Lampard, Nat Lofthouse and Tom Finney.
He's now sixth in the table of England's top scorers behind:
Wayne Rooney, 53, Bobby Charlton, 49, Gary Lineker, 48, Jimmy Greaves, 44, and Michael Owen 40.
The game was England's 1000th.
The opening saw a parade of former players, including winners from the 1966 World Cup team.
However, the night's sweet success was soured by boos that greeted Joe Gomez when he came on as a substitute.
He'd clashed with regular England striker Raheem Sterling in last week's Premier League top-table clash between Liverpool and Manchester City.
The simmering feud kicked-off again at the England training camp and Sterling – who admitted being at fault – was dropped.