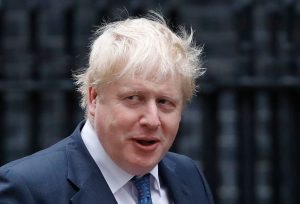 Boris Johnson has dismissed as "nonsense" claims the Conservatives offered peerages to senior Brexit Party candidates to stand down.
Nigel Farage has already withdrawn 317 applicants from the December 12th General Election.
But, despite coming under intense political pressure, he refused to do the same in Labour held marginals.
Mr Farage said he'd been offered a seat in the Lords if "he went quietly".
And, he says a similar offer was made to senior Brexit members if they could persuade him to waver.
The Prime Minister agreed there may have been "conversations" between senior Tories and people in the Brexit Party.
But he denied peerages had been offered.
He told BBC Radio 5: "It's just not the way we operate.
"What is this nonsense?
"I am sure that there are conversations that take place between politicians of all parties.
Certainly, nobody has been offered a peerage, I can tell you that.
"The Conservative Party doesn't do deals of this kind. It is just not the way we operate.
"We don't do deals; I think that will be pretty obvious from what has happened. We have made no undertakings."
In a video posted on Twitter, Mr Farage said:
"There has been a concerted attempt from people who work deep inside Number 10 Downing Street to ensure the Brexit Party did not field candidates in seats the Tories were targeting.
"They bypassed me and went to other senior figures in the Brexit Party, suggesting that eight of them could go into the House of Lords, and all they had to do was come to Nigel and convince him to stand down in a whole load more marginal seats.
"As you can imagine, I said I do not want, and I will never have, anything to do with this kind of behaviour."