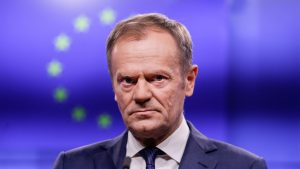 EU President Donald Tusk has controversially stepped in the UK General Election campaign.
He's recommended leavers not to give up on stopping Brexit.
The move has angered many Brexiteers who insist Mr Tusk should not interfere.
In a no-hold barred speech, Mr Tusk said once Britain leaves the EU it will become a "an outsider, a second-rate player".
He added that a friend who suggested it is "the real end of the British Empire" is probably right.
Despite agreeing to a Brexit extension last month, Mr Tusk said:
"The UK election takes place in one month. Can things still be turned around?
"The only words that come to my mind today are simply: Don't give up.
"In this match, we had added time, we are already in extra time, perhaps it will even go to penalties?"