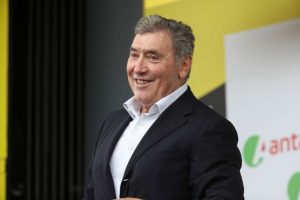 Cycling legend Eddy Merckx – a five-time Tour de France winner – has revealed he nearly died in a bike crash.
Merckx was riding with friends last month when he fell off.
He said if it hadn't been for a passing nurse "it might have been the end".
He was taken to hospital with "serious" head injuries.
Merckx said: ""Things are going better now, but things still aren't quite as they should be.
"It's a bit too much to explain, but I have to have some further scans, and riding is absolutely forbidden.
"If you'd seen what I went through, then you'd know that I was very lucky.
"If it wasn't for the coincidence that a nurse had been passing by, I think it might have been the end for me."
The rider was released from hospital after five days.