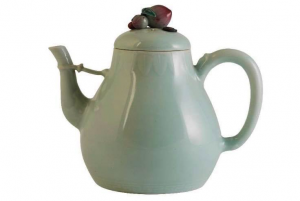 A china tea pot that sat unnoticed on a shelf has sold for more than £l million.
The owner was unaware of its value.
He only showed it to antiques' valuer Lee Young as an afterthought.
Mr Young instantly recognised the tea pot from the Chinese Emperor
Qianlong, who reigned between 1735 to 1796.
The green glazed pot – just five inches tall – was estimated to sell for a few thousand pounds.
But its appearance on the market sparked an international bidding war.
The final bid was £800,000. With auction fees the price paid was £1,040,000.
Guy Schwinge, of Duke's Auctioneers in Dorchester, said:
"Our Asian art specialist went to the vendor's house for a routine valuation and this pear-shaped teapot had been sitting on a shelf.
"The vendor brought it down for him to look at and Lee sensed straight away it was a rather exciting discovery.
"We held an exhibition in London ahead of the sale and it created a sensation.
"The vendor is understandably delighted with the result."