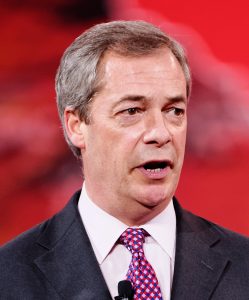 Brexit leader Nigel Farage is under increasing pressure to stand down more candidates from the General Election.
Mr Farage has already agreed to give the Conservatives a "free ride" by withdrawing his candidates from 317 seats.
But he says the Brexit Party will fight on in key marginals held by Labour.
The fear among senior Tories is that that stance could split the vote – letting Labour's Jeremy Corbyn into Number 10.
To counter the threat Mr Farage is being asked to withdraw more candidates from the December 12th poll.
Former Tory leader Iain Duncan Smith said:
"It's a good start but if they want to deliver Brexit, they've still got to focus on the fact that if they divide the vote, they'll let Labour in.
"He's going to have to go further. This is a game of two halves – we've had the first half and now we're going to have the second half.
"The second half is where he gets to decide which seats he stands down from, and he's going to have to stand down from some of them."
Mr Farage said: "I have just taken 48 hours to make this decision – allow this one to settle first."