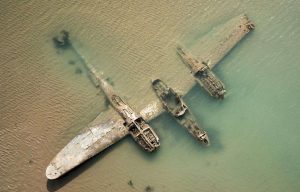 Credit:  Jospeh Mearman, Bangor University
The Welsh crash site of an American WWII fighter plane has been granted protection status.
The Lockheed P-38 Lightning founds itself in difficulties during a 1942 practice mission.
The pilot, Second Lt Robert F Elliott from North Carolina, ditched the plane off the coast at Harlech.
It has since become a site for its historic and archaeological importance.
Cadw, the Welsh government's environmental service, has scheduled the place for preservation.
The plane is buried about two metres below the sands.
Over the last 67 years it has been revealed just three times.
The pilot's nephew Robert Elliott said:
"I am honoured and delighted.
"My uncle was among those brave and expert fighter pilots who served with distinction during World War II."
Aviation historian, Matt Rimmer, said:
"I'm thrilled to see the Harlech P-38 scheduled as an historic monument.
"It not only acknowledges the significance of this particular aircraft in a historical context, but also the important role played by Wales in the air war against Nazi Germany.
"Also, the thousands of air crew from many countries who trained here, many of whom lost their lives either in accidents during training or subsequently in combat."