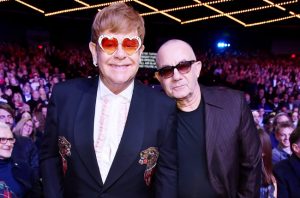 Elton John has paid tribute to his song-writing partner Bernie Taupin.
The 72-year-old star said the couple got on "like a house on fire" the moment they met.
He added they've remained close friends ever since.
Sir Elton said: "Well, let's start with the lyrics.
"I read them on the train, and I liked them straight away and I started doing demos of them.
"I didn't meet Bernie for quite a while after that, and then he came down to London.
"As in 'Rocketman', we met at a café and we got on like a house on fire.
"He was like the best friend I never had; he was like a brother.
"I have never been in the same room with him when he had written a song, we've never had an argument about a song.
"Although, there must have been times when he didn't like what I'd done but he's never told me.
"It's been the most incredible relationship; it's been 53 years now."
Taupin, 69, from Sleaford, Lincolnshire, wrote the lyrics for countless Elton John worldwide hits – including, "I'm Still Standing", "Rocketman", "Crocodile Rock" and "Candle In The Wind".
He's estimated to be worth more than £100 million.