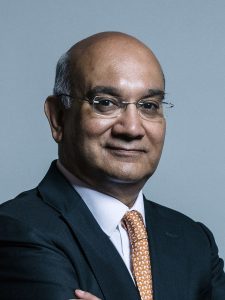 Disgraced former Labour MP Keith Vaz will not contest the coming General Election.
The Leicester East MP has decided to stand down after being suspended for six months days before the last parliament was dissolved.
He was censored after offering to buy cocaine for male sex workers.
Labour leader Jeremy Corbyn said the shamed politician had done "exemplary" work.
He added: "Keith Vaz was among the pioneering group of black and Asian Labour MPs elected in 1987.
"I was proud to support his selection and incredibly proud when he won, taking the seat from the Tories.
'His work in Parliament has been exemplary."
Mr Vaz, 62, was exposed in a Sunday newspaper sting.
He was caught on film offering to buy class A drugs for two men he'd just met.
The Parliamentary Standards Committee said there was 'compelling evidence' Mr Vaz had offered to buy cocaine for male prostitutes.
And, MPs endorsed a report denouncing him for "expressing willingness" to buy cocaine for male prostitutes.
The inquiry said the MP's ""inability to provide a single, consistent, plausible account of those events did him no favours".
The Sunday Mirror claimed Mr Vaz offered to buy cocaine for sex workers in September 2016.
The MP told the men he was an industrial washing machine salesman called Jim.
After publishing the story Mr Vaz apologised for his behaviour.
He resigned from his prestigious role as chairman of the Home Affairs Select Committee.
Kathryn Stone, the Parliamentary Commissioner for Standards, said Mr Vaz gave the inquiry many varying accounts of the evening.
In one he "declined to comment on details of his encounter" with the male prostitutes "on grounds of the medical condition of amnesia".
He then claimed the meeting was set up to "discuss interior decoration".
And, in another asserted that "a spiked drink was administered to him".
The inquiry ruled that "the welter of documentation and procedural challenges" produced by Mr Vaz were designed to "throw dust in the eyes" of the Commissioner and the Committee.
Ms Stone also decided there was "no reason" to doubt the "genuineness" of the recording of Mr Vaz with the young men.
Commons leader Jacob Rees-Mogg confirmed he would bring forward the suspension at once after the election, if he is still in his role.
MPs feared Mr Vaz a ban would only last two days before parliament dissolved.