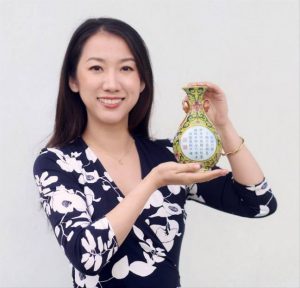 Yexue Li
A charity shop vase bought for £1 has been sold for £484,000.
The bright yellow vase was made in the 18th Century for Chinese Emperor Qianlong.
After it was pick up for a quid it was put on eBay for next to nothing.
The ornament quickly attracted lots of ever-increasing bids before it was finally offered at auction.
Specialist auctioneers Sworders in Essex identified the vase and its true price.
It was made for the Qianlong Emperor, who reigned from 1735 to 1796.
He'd specially commissioned the piece.
Its auction estimate was £80,000.
It was bought by an anonymous Chinese buyer.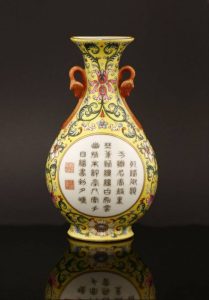 Yexue Li, head of the Asian art department at Sworders, said:
"The gentleman vendor was in the charity shop and picked out the vase because he liked the look of it.
"He was unaware of its significance, so he put it on eBay with a very low starting price to begin with and there was a lot of interest."
"He decided to take the vase off eBay and bought it in to us to take a look
"He was shocked and very excited when we explained its importance.
"The seller, who does not want to be identified, said he was 'ecstatic' with the result and that he would spend the money on securing his three-year-old daughter's future.