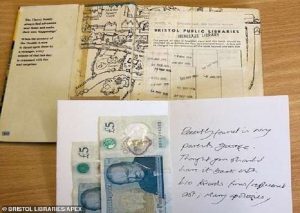 It's long overdue…but a library book has been returned after 42 years.
Inside the cover was a letter of apology and two crisp £5 notes.
The book – The Cherrys and the Double Arrow – was borrowed just before Christmas in 1976.
It was due back at the library in Henleaze, Bristol, on January 5th, 1977.
But it was never returned – missing for 15,644 days.
The letter to library staff simply said:
"Recently found in my parents' garage.
"Thought you should have it back with £10 towards fines/replacement cost.
"Many apologies."
Hayley Cantle, of Bristol Libraries, said:
"We'd love to know who it was who brought it in.
"There's no name on the note, and there's no way of knowing who it was.
"We all just thought it was really sweet, and lovely to return it now.
'It's a really old-fashioned book, it smelled old and had the classic old binding, and was a real bit of nostalgia for us."