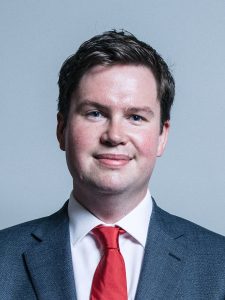 Dan Carden
A Labour politician has denied changing the lyrics of "Hey Jude" to "Hey Jews".
Dan Carden is said to have joined a singalong after a private bus trip to the races at Cheltenham in March 2018.
A Buzzfeed reporter, who was sitting behind Mr Carden, claims he heard him singing loudly.
He wrote: "When the chorus reached the word 'Jude', Mr Carden chanted at the top of his voice, 'Jews, Jews, Jews'."
Mr Carden, 33, has tweeted: "I have been categorical in my denial about allegations relating to a coach trip some twenty months ago.
"This was a coach full of journalists and MPs.
"If anyone genuinely believed any anti-Semitic behaviour had taken place, they would've had a moral responsibility… to report it immediately.
"Yet this allegation is only made now when a general election is imminent."