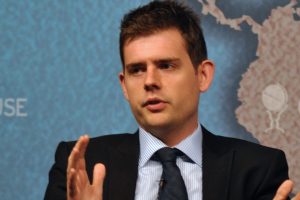 Professor Matthew Goodwin
Nigel Farage's Brexit Party will win no seats at the General Election, predicts a leading politics professor.
Matthew Goodwin from Kent University – and an expert on the rise of popular politics – said:
"I don't think they will win any MPs.
"Nigel Farage clearly has to ask himself a question at this point – does he want to go down in British history as the most influential politician not elected to Westminster who effectively brought about Brexit.
"Or does he potentially want to go down in history as the guy who attracted five to seven per cent at the election and cost Boris Johnson and the Conservatives an election victory and by extension brought down Brexit.
"This is the fundamental choice facing both Farage and the Brexit Party."
Already several Brexit candidates have stood down and urged voters to back the Conservatives.
At the Brexit Party election launch Mr Farage predicted they'd win 10 seats, however, he declared he would not be standing himself.
Talking to the Daily Telegraph, Professor Goodwin said: "I believe that by far the biggest threat that currently faces this country is a government led by Jeremy Corbyn.
"If he got into No10. he would undermine our economy, our defence and our union.
"I therefore believe it is fundamentally wrong for the Brexit Party, which is strongly patriotic and has a deep allegiance to our union, to stand candidates in constituencies where the Tories have a chance of winning."