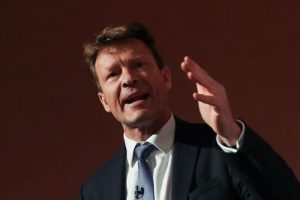 Richard Tice
Brexit Party chairman Richard Tice is to stand in Hartlepool in the General Election.
The party has earmarked the North East seat as "winnable"
It did well in the recent local elections and took control of the council.
Mr Tice said his party "plan to win and win big".
He added: "We will battle for a proper Brexit, put more money into Hartlepool and more jobs for the people here".
Hartlepool voted 69.3 per cent the leave the EU in 2016.
It has been a Labour seat since its constituency creation in 1974.
Mr Tice said: "I am delighted to be standing here in Hartlepool and can't wait to use my knowledge and experience, gained over years running successful businesses and this party, to fight for the interests of this city.
"I have worked outside the Westminster bubble and know how to get things done and solve problems. My party and I believe in common sense politics that will bring money and jobs into Hartlepool.
"Critically, I will ensure the proper Brexit that seven out of 10 people in this city voted for, is delivered. The former MP is out of touch, voting for more EU integration and consistently voting to keep the UK in the EU.
"I'm really looking forward to the campaign, meeting as many people as possible, and showing I am fully committed to this town and its future."