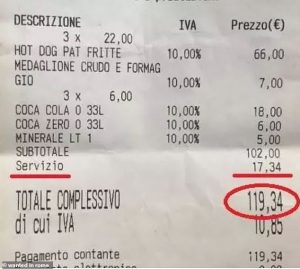 Tourists have again been ripped off by sky-high prices in Italian bars.
A family's bill came to more than £100 for snacks at a bar in the Vatican.
The extortionate amount comes after a Japanese couple recently paid £370 for a fish and spaghetti dish.
Surprised diner Leo Recchia ordered three hots dogs, a cheese and ham sandwich and some drinks at the bar near St Peter's Square.
The service charge was an extra £17.00.
Mr Recchia said: "To think that the night before we had gone to a restaurant behind the Pantheon.
"We spent the same, but for a complete dinner."
The bar manager defended the bill.
He said: "The prices are on the menu, you can check.
"Also, we are near the Vatican, it costs."
Mr Recchia put his bill on social media with a warning about prices.
The Japanese couple picked up their eye-watering bill after eating at the Antico Caffe di Marte in Rome.
They too posted their experience on Trip Advisor and the story went around the world.
Now, the Antico Caffe di Marte sits empty most days.
Carlo Cafarotti, Rome's head of tourism said:
"Customers must be treated well and encourage to come back.
"With this kind of behaviour, we are damaging the image of the capital."