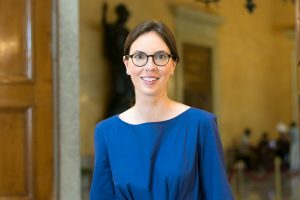 Amelie de Montchalin
A French minister has warned the new Brexit date of January 31st is "not negotiable".
And, Amelie de Montchalin added the risk of a no deal still remains.
The Minister for European Affairs said she's telling French companies to press ahead with plans in case of no deal.
Ms Montchalin defended France's earlier fight not to extend the Brexit deadline.
She said French businesses and families needed "clarity" on the issue.
The Prime Minister Boris Johnson failed to deliver his "do or die" pledge for Britain to leave the EU by October 31st.
He was forced to ask the EU for an extension.
He's hoping a Conservative victory at the General Election on December 12th, will deliver a more "Brexit-friendly" parliament.