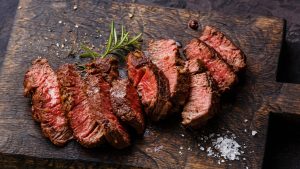 China has lifted a 23-year ban on British beef – a move worth £230 million to the industry.
It imposed the sanction after a UK outbreak of mad cow disease in 1996.
The embargo was lifted last year, but the Chinese Government needed a final inspection of British farms before giving it the green light.
Beef from two firms have been approved and shipping starts next week.
It's thought the market could be worth £230 million over the next five years.
Environment Secretary Theresa Viliers said:
"The milestone marks another step towards unlocking the industry's full potential."
And, Liz Truss, International Trade Secretary, added:
"Chinese diners can now enjoy the best beef in the world."