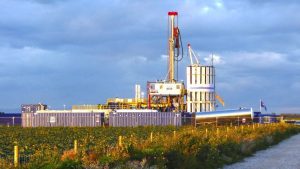 The Government has banned fracking from now – delighting environmentalists and frustrating energy companies.
Ministers told shale gas companies it would not support future projects.
The move ends years of opposition to the controversial scheme of extracting oil and gas from rocks.
It follows scientific study warning it was not possible to rule out "unacceptable" consequences for those living near fracking sites.
The Oil and Gas Authority (OGA) also warned about earthquakes being triggered by fracking.
Andrea Leadsom, the business and energy secretary, said:
"After reviewing the OGA's report into recent seismic activity at Preston New Road, it is clear that we cannot rule out future unacceptable impacts on the local community.
"For this reason, I have concluded that we should put a moratorium on fracking in England with immediate effect."
Craig Bennett, the chief executive of Friends of the Earth, said:
"This moratorium is a tremendous victory for communities and the climate.
"For nearly a decade local people across the country have fought a David and Goliath battle against this powerful industry.
"We are proud to have been part of that fight."