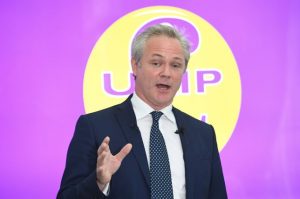 UKIP leader Richard Braine has resigned after less than three months in charge.
He is the eighth leader to quit since 2016.
Mr Braine, 51, blamed "internal conflict" for his decision to walk away.
He said he found himself "powerless to prevent a purge of good members from the party".
Former leader Gerard Batten said the party's chairman and its National Executive Committee "made it impossible for him [Braine] to do his job."
UKIP – once a driving force behind leaving the EU – has been in terminal decline since its charismatic leader Nigel Farage left.
In last May's European election, the party lost all of its MEPs.
It is currently polling at one per cent ahead of the December 10th General Election.