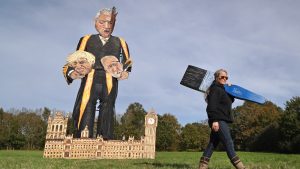 An effigy of retired Commons Speaker John Bercow is to be burned for Bonfire Night.
Bercow will go up in flames in Edenbridge, Kent.
The town's earlier burnt offerings have included Donald Trump, Boris Johnson, Tony and Cherie Blair and "Queen of Mean" Anne Robinson.
The Bercow effigy has him holding the heads of Prime Minister Boris Johnson, and Labour leader Jeremy Corbyn.
During the Brexit debate some MPs have seen Speaker Bercow – a renowned Remainer – as someone deliberately thwarting the Referendum result.
Others see him as a Speaker who's allowed Parliament its voice.
Edenbridge Bonfire Society Chairman Bill Cummings:
"Our message to Mr Bercow is that you cannot keep disrupting parliament and this is one situation you cannot argue yourself out of.
"We hope Mr Bercow will appreciate the humour contained in our caricature and take it in the good spirit with which it is intended."
Bonfire Night fireworks mark the failed attempt by Guy Fawkes to blow up Parliament in the Gunpowder Plot in 1605.