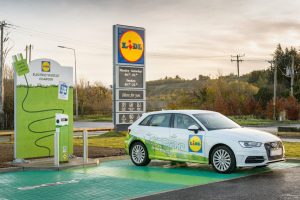 Lidl is the latest supermarket to install a network of electric car chargers.
The low-cost supermarket chain joins competitors Morrisons and Tesco to set up charging points at its stores.
Lidl's £25 million scheme will see 50kW rapid charges at newly built stores.
Existing outlets will be retrofitted.
Lidl already has chargers at 40 sites and will open more than 50 new stores before the end of 2019.
Ingo Fischer, chief development officer for Lidl GB, said:
"At Lidl, we are committed to tackling the environmental concerns that our customers care most about, whilst giving them access to solutions that will support them in their ambition to lead more sustainable lives.
"Not only will our customers be able to charge their electric cars in 50 mins – less time than it takes to do a big shop – they will be able to do it for the best price on the market.
"It is our hope that, through this significant investment, we will enable easier access to charging points, ultimately helping more households switch to electric vehicles."
The 50kW points can charge a vehicle from 0-80 per cent in less than an hour.