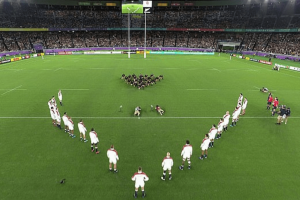 England's rugby team has been fined for its "defiant stance" against New Zealand's fearsome haka.
The England players fanned out in a V-shape as the Kiwis chanted their war dance.
However, some of the squad crossed the half-way line and refused to move when officials asked.
World Rugby rules state opponents must not cross the half way line while the haka is being performed.
The size of the fine is not known, but it will be given to charity.
A World Rugby spokesman said:
"England have been fined for a breach of World Cup tournament rules relating to cultural challenges, which states that no players from the team receiving the challenge may advance beyond the halfway line.
"This is in line with the protocol which operates globally across the international game."
England captain Owen Farrell said: "We didn't just want to stand in a flat line and let them come at us."
World Rugby's Youtube video of the incident has been watched more than four million times.