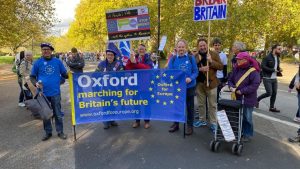 Protesters from all over Britain have marched through London in support of a second referendum.
The "Together for the Final Say" rally attracted more than a million campaigners.
Activists even travelled from Europe to protest in the capital.
A fleet of nearly 175 coaches from all over the UK were packed with marchers.
Thousands more people arrived by train.
Some coaches were sponsored by celebrities including cook Delia Smith, writer and director Armando Iannucci, and actor Sir Patrick Stewart.
Dr Peter Burke, chair of Oxford for Europe said:
"On Saturday all across the UK headed to London to demand our voices are heard.
"Boris Johnson needs to hear loud and clear he must seek our consent before he inflicts his damaging Brexit on our country."
Since the march, hundreds of thousands of people have already signed a petition demanding people be given the final say on Brexit in a referendum.
The letter will be delivered before this week's Brexit deadline of October 31st to Downing Street, the Houses of Parliament, the European Parliament and other European Heads of Government.