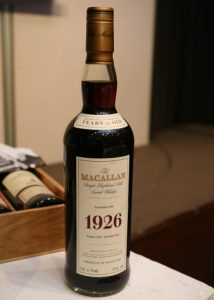 Doubles all round – a bottle of Scotch whisky has sold at auction for a record £1.5 million.
The single bottle of The Macallan 60 Year Old 1926 had been estimated to go for £450,000.
But intense bidding quickly saw the price hit a record high at Sotheby's in London.
The buyer was not named, nor was the seller – an avid whisky collector for two decades.
In a previous interview he said:
"Collecting whisky over these past 20 years has been a real passion of mine, though it was not something I set out to do.
"I have always loved drinking whisky – as family and friends will attest, to this day I can be found most evenings with a cigar in one hand and a glass in the other – but I was a wine collector first.
"I then found myself looking at unique bottles of Scotch, initially attracted by the beauty of the labels."
Jamie Ritchie, chairman of Sotheby's Wine, said:
"It is an honour to launch spirits as a new category for Sotheby's and to present the world's largest and most important single-owner spirits sale.
'These bottles and casks come from an American connoisseur who built an incredible collection of rare scotch whisky."
The Macallan 60 Year Old 1926 is part of a collection of Scotch whisky – said to be the most valuable ever offered at auction.
The collection is expected to sell for around £4 million in total.