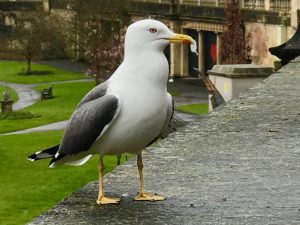 Urban gulls could be culled in England for the first time in 40 years.
Despite using "non-lethal" methods the population continues to grow.
Last year Worcester City Council spent £30,000 on deterrents, but with little success.
Now, the council has applied to Natural England for a licence to shoot the birds.
Conservative councillor Alan Amos is behind the proposed cull.
He said local people were "angry and frustrated" by the council's lack of action.
He said: "They [gulls] are vicious flying rats which wake people up in the early hours of the morning, bombard cars with droppings and attack pets and prevent people from sitting in their gardens and opening their windows.
"If all this was being done by people, they would rightly be arrested.
"Clearly, current policies are not working.
"We know that no alternative policy has worked, or will, and I will not sit idly by and see my constituents needlessly suffer in this way.
"It is depressing that some people think gulls are far more important than the safety and health of residents."
Natural England said gulls could only be culled as part of wider measures and only as a last resort.
And, Animal Aid said:
"Shooting often just disperses a [gull] colony, which will simply return once the shooting has stopped.
"Poisoning can also put the public and other wildlife at risk.
"As gulls are long-lived and mobile, any reduction in numbers will quickly be replenished from local colonies."