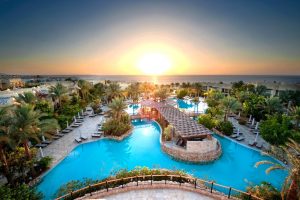 UK Airlines can restart flying to Egypt's premier resort Sharm el Sheikh four years after flights were banned.
The embargo was imposed after an Airbus A320 crashed in the Sinai desert shortly after taking off from the holiday destination.
It was believed an on-board bomb had been planted at the airport.
All 224 passengers and crew on flight to St Petersburg died.
Since the incident in October 2015 the Egyptian Government has spent tens of millions of pounds on security.
Now, the UK has announced:
"On 22 October 2019 the restrictions were lifted. You should check with your airline or tour operator for information on services."
Transport secretary Grant Shapps added:
"We look forward to services to Sharm El-Sheikh resuming, and lifting the restriction is the first step in that process.
"The safety and security of British nationals remains our top priority and this decision follows close co-operation between our aviation security experts and their Egyptian counterparts, and improvements in security procedures at the airport.
"We will now work closely with airlines who wish to resume flights to and from the airport."