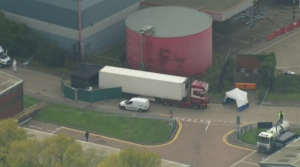 Thirty-nine bodies have been found in the back of a lorry parked in Essex.
It's believed one person is a teenager.
An ambulance crew made the discovery after being called to the Waterglade Industrial Park, near the Dartford Crossing.
The Scania lorry is originally from Bulgaria.
It come into the UK through the Welsh port of Holyhead.
It's thought it arrived there from Ireland.
The driver, a 25-year-old man from Northern Ireland, has been arrested on suspicion of murder.
Seamus Leheny, of the Northern Ireland Freight Transport Association, said:
"There is a direct route to Holyhead from Dublin.
"If the lorry came from Bulgaria, getting into Britain via Holyhead is an unorthodox route."
The investigation by Essex police is the biggest murder inquiry in British policing history.
Prime Minister Boris Johnson said he is receiving "regular updates" on the inquiry.