A 450-year-old picture of the Last Supper painted by a nun has undergone a four-year restoration.
The scene of the final meal Jesus shared with his Apostles had been hidden for years.
It was discovered in a poor state in the refectory of an Italian convent.
Plautilla Nelli was a Dominican nun and painter who resided in the nunnery of Santa Caterina in Cafaggio.
Her painting was seven metres wide and two metres high.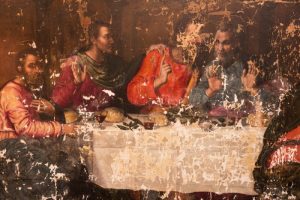 The restoration was commissioned by the Advancing Women Artists Foundation (AWA).
Over the last ten years it has restored 65 works by historic female artists in Florence.
Plautilla Nelli's painting is now on display in the Museo di Santa Maria Novella in Florence.
It is believed she painted "The Last Supper" in the 1560s in her late 30s.
Linda Falcone, of the AWA said:
"Within these seven metres you can see different painters' hands, so it's canvas proof that she founded this all-women workshop inside her convent."
Sponsors had each "adopted" an Apostle in the picture – though no-one stepped forward to claim Judas.