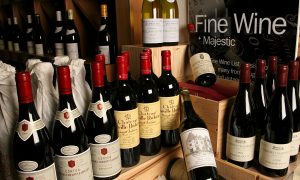 Britain's biggest independent wine seller is stockpiling two million bottles ahead of the country's expected first Brexit Christmas.
Majestic is bringing forward eight weeks' worth of wine to meet festive demands.
The company fears the UK's departure from the EU will hits ports and consequently slow down imports.
A Majestic spokesman said:
"We are stockpiling an extra 2m bottles of wine this winter as we head towards 31 October.
"It's a lot more than we brought in last time. And we're warehousing it right across the UK in our stores to make sure we don't run out for Christmas."
Last year, Majestic revealed plans to stockpile around 1.5 million bottles of wine amid trade fears sparked by Brexit.
The company makes one third of its annual revenue over Christmas and the New Year.