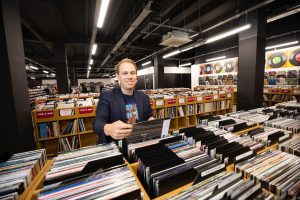 Doug Putman, HMV owner
Vinyl records are making a return with the opening of Europe's biggest entertainment store.
A revitalised HMV is opening The Vault in Birmingham.
The 25,000 square foot site will house more than 100,000 LPs and CDs, as well as 60,000 films on DVD and Blu-ray.
Vinyl was written off as finished years ago as technology hi-jacked the music and film business.
But last year 4.2 million LPs were sold in the UK – a 1.6 per cent rise on 2017.
Doug Putman, who bought stricken HMV last February for £883,000, said:
"It's a massive store with ranges no one has seen before.
"Things are changing fast and it probably seems crazy to have such a big store, but there is method behind the madness.
"I am a firm believer in the potential for British high street retail and HMV will play a fundamental role in ensuring that our shopping districts continue to thrive.
"When you run a business, especially a retail business, it's hard to predict what is going to happen next. Obviously there is a lot of uncertainty everywhere, it's tough.
"Our goal is to grow, which always makes people look at me a bit strangely. If we partner with the right landlords, sign the right deals, have the right product mix, the store number would grow.
"I feel like we are well positioned to have a strong Christmas, we just have to make sure we have the product that customers want and give the service the people have come to expect."
The Vault is in Birmingham's city centre. It used to be an Ikea outlet.