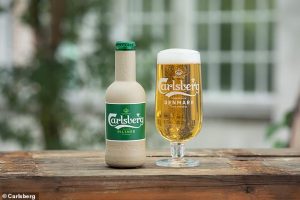 "Carlsberg, probably the best beer in the world" could soon come in paper bottles.
The Danish brewer is working on a paper bottle made from sustainably sourced wood fibres.
The Copenhagen based company is developing the project to help it achieve zero carbon emissions at its factories by 30% by 2030.
Carlsberg has two prototypes it claims are "fully recyclable and have an inner barrier to allow the bottles to contain beer".
At present, the inside barriers are made of polymers.
But it is working to make a bottle made entirely of bio-materials.
It believes it is some years away from perfecting the bottles.
The brewer said it will join forces with Coca-Cola, Swedish vodka maker Absolut, and make-up group L'Oreal to develop paper bottles.
Myriam Shingleton, vice president of group development for Carlsberg, said:
"While we are not completely there yet, the two prototypes are an important step towards realising our ultimate ambition of bringing this breakthrough to market.
"Innovation takes time and we will continue to collaborate with leading experts in order to overcome remaining technical challenges."