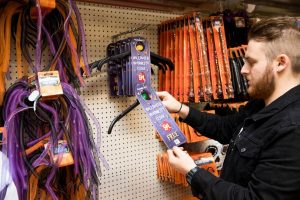 Poundland is offering invisibility cloaks in its Halloween range.
The cloaks, designed to help trick or treaters, are priced as "free".
They come in just the one colour – but no one knows which one – and one size fits all.
Tim Bettley, Poundland trading director, said:
"We intended to trial this item last year but couldn't find it in the distribution centre.
"But now we've found it, we think our customers will see the value, if not the cloak."
The invisible cloak – it comes with the hangar – is part of Poundland's largest ever Halloween range.
The company has more than 270 products available in its stores across the country.
Sadly, the invisible cloaks are only on offer at six shops:
London Stratford High Street, Salford City, Bristol Galleries, Byker Retail Park (Newcastle), Leeds Lands Lane and Birmingham Corporation Street.