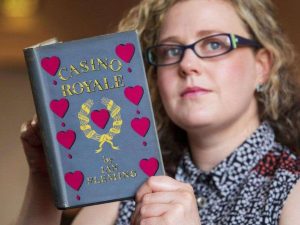 A rare first edition of Ian Fleming's book Casino Royale has been sold at auction for £55,000.
The book – Fleming's first about James Bond – was published in 1953.
It was written at his Goldeneye home in Jamaica.
Inside the cover the author had written:
"Alastair, from the author – read & burn".
An anonymous online bidder bought the book for more than three times its estimate.
Cathy Marsden, book specialist at auctioneers Lyon & Turnbull in Edinburgh, said:
"We are delighted with the sum for this rare first edition of Casino Royale, which we can confirm is a new world record for the title.
"The work was published in a run of just over 4,500 copies: a figure which seems large, but pales in comparison to the posthumously published The Man With the Golden Gun, which commanded a print run of 82,000 copies.
"Today, first edition copies of Casino Royale complete with dust-jacket are relatively rare – and inscribed copies are even more unusual."
Casino Royale was an instant hit as its first run of 4,728 copies sold out within a month.
On the strength of its success, publisher Jonathan Cape commissioned three more Bond thrillers.