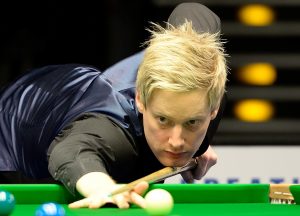 Former world snooker champion Neil Robertson has been forced to quit a World Open match after driving to the wrong venue.
Robertson was due to play in a qualifying round at the Barnsley Metrodome in South Yorkshire.
Before leaving his home in Cambridge he typed Barnsley into his sat-nav and drove off.
Sadly, he was heading for Barnsley in Gloucestershire – a small village of no more than 200 people.
The Barnsley he wanted – more than 91,000 residents and the heart of South Yorkshire – was 170 miles in the wrong direction.
Robertson, 37, said: "When I realised there was a second Barnsley it was too late to get to the other one.
"Hopefully I'll be able to either play or complete a match this season.
"A friend always drives me to qualifiers, but he selfishly entered a Challenge Tour event this weekend."
Robertson's opponent Ian Burns, 34, who was waiting patiently in the right Barnsley, was handed the game.
He will now play in the final stages of the tournament in Yushan, China later in October.