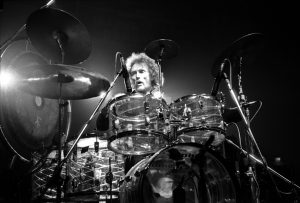 Drummer Ginger Baker – a founder member of supergroup Cream – has died.
He was aged 80.
The news was announced on his Twitter page.
It read: "We are very sad to say that Ginger has passed away peacefully in hospital this morning.
"Thank you to everyone for your kind words over the past weeks."
His death comes shortly after his family announced he was "critically ill".
Baker formed Cream in 1966 with guitarist Eric Clapton and classically trained bass player Jack Bruce.
Cream was the first "supergroup" where extremely talented artists worked as a unit.
However, Cream was beset by in-fighting and broke up soon afterwards.