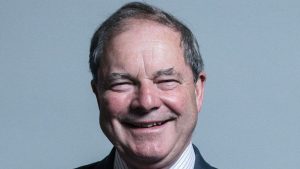 A Tory MP has apologised "unreservedly" for a "misunderstanding" that had him kicked out of the Conservative Party conference.
Sir Geoffrey Clifton-Brown was trying to get his fiancé into a VIP lounge when challenged by a female security guard.
The senior MP is said to have "remonstrated" with staff over his fiancé's pass.
As the row escalated, armed police were called and the Cotswold MP was escorted from the building.
The fracas caused the International Lounge being placed on lockdown for around 20 minutes.
Sir Geoffrey said: "This was a minor verbal misunderstanding.
"The police have not contacted me at all.
"I am mortified that something so minor seems to have been blown out of all proportion and if anyone has been offended, I apologise unreservedly."
A party spokesman said: "The incident was totally unacceptable.
"Geoffrey has been asked to leave Conference and we are establishing all of the facts to see if further action is necessary."
Sir Geoffrey, 66, an old Etonian, is Treasurer of the 1922 Committee of Conservative MPs.