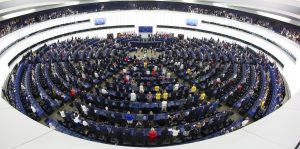 Tory MEPs are hiring staff in Brussels despite Boris Johnson's "do or die" to quit the EU.
If Britain leaves on October 31st all its MEPs will be out of a job.
The new job for an interns start on November 1st.
Liberal Democrat MEP Caroline Voaden said:
"It is ironic that the Conservatives are trying to recruit an intern to join their team and 'nurture the relationship between the EU and the Conservative Party'."
However, a Conservative MEPs spokesperson denied the job posting showed the party was planning for a Brexit delay.
They said:
"The ECR Group is recruiting an intern from the UK as part of an ongoing scheme to maintain ties now and post-Brexit with the Conservative Party – as the advert makes clear."