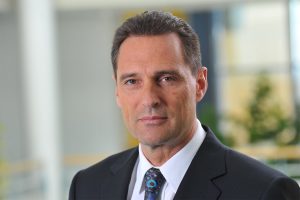 The beleaguered Thomas Cook boss has admitted he's "heartbroken and deeply sorry" after the travel firm collapsed.
Peter Frankhauser also denied he was a "fat cat", despite picking up more than £8 million in pay and bonuses over the last five years.
The chief executive's remuneration has been criticised by the Prime Minister Boris Johnson.
And, MPs are looking at how the firm was run and its accounting methods.
Swiss born Mr Frankhauser, 58, said half his pay was in shares which are now worthless.
Talking to The Mail on Sunday, he said: "I tried my absolute best to save the company.
"But the truth is I didn't pull it over the line.
"And I understand all the anger, all the disappointment of my colleagues.
"I understand all that.
"But I gave everything not to be in this situation.
"You ask me how I feel? Desperate. And deeply sorry.
"I'm grateful for the loyalty of millions of customers.
"And I feel deeply, deeply sorry that they suffered this crisis.
"I can't say more than that.
"I can just tell them I tried everything for this company."
Mr Frankhauser said Thomas Cook – Britain's oldest travel firm started 178 years ago – was been weighed down by debt before he took the helm.
The company went into liquidation.
The Government launched Operation Matterhorn to bring home stranded holidaymakers.
Since then 92,700 tourists have been flown home from 53 airports in 18 countries.