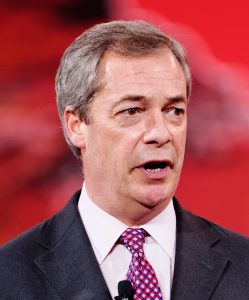 Brexit Party leader Nigel Farage will not face police action over remarks he made at a rally.
The Brexit party leader was talking to about 500 people in Newport, Wales last week.
He said that he would "take the knife to the pen pushers in Whitehall" once Brexit was sorted.
Social media said the comments incited violence.
Gwent police issued a statement saying: "We are aware of the heightened tensions that exist regarding use of language and take all allegations and concerns from members of the public very seriously.
"However, following a thorough assessment, it is our view that the comments in the video, do not constitute a criminal offence.
"As such, Gwent police will not be taking any further action."