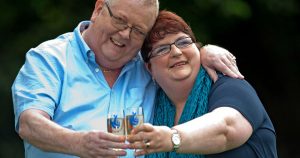 A couple who won a £161 million EuroMillions jackpot eight years ago are to split.
Colin and Christine Weir were granted a divorce last week by a court in Edinburgh.
The Weirs, from Largs in Ayrshire, had been married for 38 years.
They have two grown up children.
Christine, 62, and Colin, 71, announced their separation last April.
At the time a joint statement said:
"It is with deep regret that Chris and Colin Weir confirm they have been living apart for some time and intend to divorce amicably.
"They ask that the family's privacy is respected at this time and there will be no further comment."
However, a friend described their marriage problems as a "bit of an open secret" to those who lived nearby.
She added: "It's a real shame because they've obviously been through so much together.".