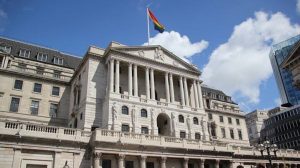 A senior Bank of England official has warned that interest rates may have to be cut within weeks.
Monetary Policy Committee (MPC) member Michael Saunders described Brexit as a "slow puncture" as sterling tumbles.
He added: "The economy could follow very different paths depending on Brexit developments.
"But in my view, even assuming that the UK avoids a no-deal Brexit, persistently high Brexit uncertainties seem likely to continue to depress UK growth below potential for some time, especially if global growth remains disappointing.
"The economy has not crashed.
"But the effect of Brexit uncertainties is perhaps akin to the economy developing a slow puncture such that growth has slowed to a mere crawl."
He added that interest rates might have to be cut even if the UK avoids a no-deal Brexit.
And, the uncertainty gripping the economy was "so intense".
Mr Saunders, one of nine rate-setters on the MPC, raised fears that the UK is heading for a recession.