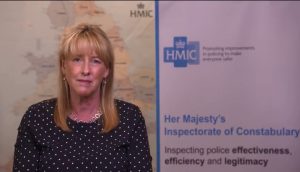 Zöe Billingham
Police officers could be exploiting their position to abuse vulnerable people, as a report reveals more than 35,000 have not been properly vetted.
In some of the largest forces, background checks on nearly half of serving officers and police staff have not been done.
A report by Her Majesty's Inspectorate of Constabulary and Fire & Rescue Services, (HMICFRS) found five forces were unable to say how many of its officers had undergone basic checks.
And, up to 200 cases of police officers abusing their position to sexually exploit someone are reported to the independent watchdog each year.
HM Inspector Zöe Billingham said:
"Vetting and checking the people who work in each force is the first line of defence against all forms of corruption.
"Forces must carry out effective background checks on all people joining the service.
"There can be no excuses for shortcuts. We are still deeply concerned by the proportion of people working in forces who don't have the correct vetting.
"A number of forces had not taken relatively simple steps to protect people from predators who have no place in the police.
"The people who are victims are very vulnerable and often do not think of themselves as victims.
"They see their abuser as their knight in shining armour."