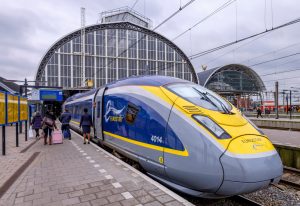 Eurostar plans to open a direct train service to Amsterdam in mid-December, unless it's scuppered by Brexit.
If the UK crashes out without a deal it will "complicate" customs arrangements, says the Dutch government.
Currently, passengers can travel direct to Amsterdam from St Pancras, London.
But on the return trip they have to go through a customs and security check at Brussels Midi in Belgium.
The new service means these checks could be done at Rotterdam Central and Amsterdam Central.
Mike Cooper, Eurostar's chief executive, said:
"Our new route to the Netherlands has been met with strong demand from our customers, who increasingly value the ease, comfort and seamless experience of high-speed rail."