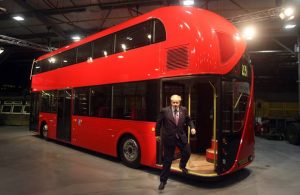 The builders of London's iconic Routemaster bus faces closure.
Administrators of Wrightbus, based in Northern Ireland, are urgently looking for a buyer.
Ian Paisley, DUP MP, said:
"Essentially, from this point the administrator has a week to find a buyer."
And, Stormont Assembly member Jim Allister said:
"The impending administration of Wrightbus is devastating news, not just for the employees of Wrightbus but the wider North Antrim community and supply chain.
"My heart goes out to the hundreds with no wage packet this week or job hereafter."
Wrightbus has been seeking investment as it struggles with cash problems.
It is one of Northern Ireland's largest employers.
The company has been a hugely profitable in the past.
It based its business model on producing low-emissions vehicles.
When Boris Johnson was Mayor of London he announced a lucrative order to produce the capital's latest fleet of buses.